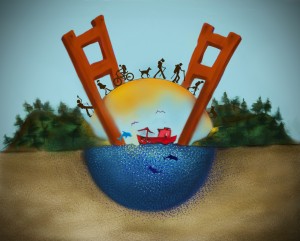 Hiking İstanbul – İstanbul'un yakın çevresinde günlük doğa yürüyüşleri
Bizler İstanbul'un yakın çevresinde günlük yürüyüşler (hike) hakkında kitap yazma çabasında olan üç İstanbulluyuz. Kitap İngilizce ve Türkçe olacak. Şu anda böyle bir kitap olmaması bize çok şey söylüyor…
Caroline bir Osmanlı tarihçisi ve Türkiye'de benzeri olmayan Evliya Çelebi Uzun Güzergâhlı At Yolu'nun yaratıcılarından biri. Nick bir sanatçı, konser organizatörü ve dağcı. Suha haritacılık, navigasyon ve coğrafi bilgi yönetimi konusunda uzman bir kişi. Üçümüz de "yürüyüş" (hike) meraklısıyız.
Kitap fikri, Serkan Taycan'ın 2013 İstanbul Bienali Kanal Yürüyüşü projesiyle kıvılcımlandı, hükümetin Gezi Parkı'nın yapılaşması girişimi ile kamu alanlarına erişime Türkiye'de çok az değer verilmesine tepki olarak şekillendi (Avrupa kentleri arasında İstanbul en az yeşil alan yüzdesine sahip olanlar arasındadır, birçok otel ve diğer yapılar daha önce parklar veya mezarlıklar üzerine inşa edilmişlerdir). Eğer patikalar ve izler kullanılmıyorsa, İstanbul civarındaki alanlar takdir görmüyor ve rekreasyon amaçlı (yeniden yaratma ve yenilenme anlamına gelir) değerlendirilmiyorsa, bir gün bu alanlar "geliştirme" adına imha edildiğinde şikâyetçi kim olabilir ki?
Bu, ekonomik ilerleme saplantısıyla hızlanan, uzun bir süredir devam emekte olan bir durum. Başbakan'ın yakın geçmişteki bir yorumu ile "Yollar için her şey feda edilebilir çünkü yollar medeniyettir. Medeni olmayanlar yolların değerini bilmezler. Bizim değerlerimize göre yollar hiçbir engel tanımaz." Bu nedenle, İstanbul çevresinde kutsal, korunan alanlar yerine ihmal edilebilir değeri olan mekanlar var; yani bir yerden bir yere giderken içinden geçilen mekanlar. Ancak otoyol, kanal, havaalanına dönüştürüldüklerinde, mega projeler arasında bir zamanların yeşil alanlarını dolduran kentsel yayılmanın değeri var addediliyor.
Kitabımız aynı zamanda Kate Clow'un olağanüstü çalışması olan uzun-mesafeli Anadolu yürüyüş rotaları yaratılması girişiminin bir uzantısı da olacak.
Kitabımızın kavramsal prensipleri şunları içermekte: yürüyüş başlangıç ve bitiş noktalarına toplu taşıma araçları ile erişile bilinmeli, özel araca bağımlı olunmamalıdır; estetik, tarihi ve doğal zenginlikler ve fiziksel anlamda çekici olmalıdır. Yürüyüş-disiplini gerektirmeli, tamamlanması günün çoğunu almalı, bazılarının birleştirilerek, kamp malzemesi taşınmaksızın, birkaç günlük yürüyüşe dönüştürülmesi mümkün olmalıdır. Zaman içinde kitapla bütünleşik Web 3.0 özellikli Web sitesi ve Akıllı Telefon uygulamaları geliştireceğiz. Ayrıca diğer sivil toplum kuruluşları ve kurumlarla işbirliği arayışları içindeyiz.
Projenin farklı aşamalarında başka katılımcılarla beraber çalışmayı, İstanbul'un yakın çevresini keşfederken isteyenlerin bizlere katılmalarını diliyoruz. Eğer ilgileniyorsanız veya ilgilenenleri tanıyorsanız, bizimle irtibat kurun ve onların da bize erişmelerini sağlayın. Eğer bu aşamada aktif anlamda bize katılmayıp sadece bilgilendirilmek istiyorsanız, lütfen belirtin. Eğer İstanbul çevresinde bizim tanımımıza uyan günlük yürüyüş önerileriniz varsa, lütfen bizi bilgilendirin.
Yukarıda ilginiz çeken konularda veya daha fazla bilgi için bize Türkçe ve İngilizce erişebilirsiniz.
Nick Hobs, Caroline Finkel, Suha Ülgen
========================
Hiking Istanbul – a book of hikes in the Istanbul region
We are three long-time Istanbullers working on a book of hikes in Istanbul's hinterland – at the moment there isn't such a book, which already says a lot. The book will be in Turkish and English versions. Caroline is an Ottoman historian and co-creator of the Evliya Çelebi Way long-distance bridle path (the only such in Turkey). Nick is a performer, concert promoter and mountaineer. Suha is a master of mapping, navigation and all things geoinformatic. We are all keen hikers.
The idea for the book was sparked by Serkan Taycan's Canal Walk project for last year's Istanbul Biennial, and is a response to the Government's attempt to build on Gezi Park, and how extraordinarily little value is given to public land and public access in Turkey (Istanbul has amongst the lowest percentage of green space of any European city, with many hotels and other constructions built on land which was once parks or cemeteries). If trails and paths are not used, if the land around Istanbul is not appreciated and not used for recreation (which means literally the process of re-creating, of renewal), then who can complain about it being destroyed one day in the name of 'development'?
A process which has been going on for a long time, and accelerating under the obsession with economic 'progress' (to whit the Prime Minister's recent comment "Everything can be sacrificed for roads, because roads are civilisation. Those who are not civilised do not know the value of roads. In our values, roads do not recognise any obstacle".), so instead of a green belt of sacred, protected land around Istanbul, we have space which has negligible value (it's just the space you pass through on your way to somewhere else), and only is regarded as having value if it's turned into motorways, canals, airports, and the urban sprawl which fills in the once-green spaces between the megaprojects.
Our book will also be an extension of Kate Clow's extraordinary work in creating long-distance hiking trails in Anatolia.
Related links and references: