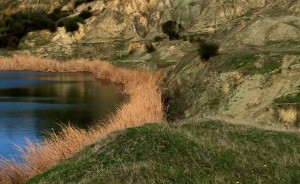 We aimed to follow the first section of Serkan Taycan's Between Two Seas Erdoǧan's Canal-route walk from Yeniköy by the Black Sea to Baklalı which is a village south of Durugöl reservoir. The day started on the wrong foot when it turned out that the rendezvous point we'd announced on FaceBook didn't really exist yet (as the T4 tram doesn't yet run all the way to Habibler) which meant that if any of you were there waiting for us then we lost you, for which most sincere apologies. We'll have to exchange mobile numbers next time.
After which things went quite well. The shuttle from Mescid-i Selam to Arnavutköy and the bus on from Arnavutköy to Yeniköy were much quicker than we'd thought they would be though it was still a good 2 hours plus travel from our homes to Yeniköy. The weather was kind for mid-winter, chilly and windy but sunny all day. And the ground was muddy in places but not impossibly so (this walk would be probably quite unpleasant and trying in wet weather as there would be several very muddy sections to negotiate).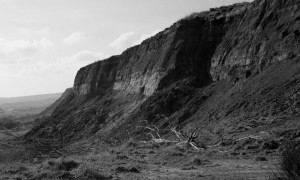 The landscape of the abandoned lignite mines lived up to Serkan's promise. A wonderful manmade mini-alpine zone of cliffs, peaks and pools. This place really should be declared a nature reserve (the campaign starts here…!) as it's a haven for birds and flowers – as well as being fascinating to walk in. Instead its fate seems to be extinguishment under the third airport – awful! In fact pretty much of the whole of today's walk is under the triple threat of the 3rd airport, the 3rd bridge motorway and Erdoǧan's mad Canal. And the evidence of land sales is all around as the area around the mine has been fenced off into plots for sale to speculators.

We lost Serkan's route as we left the mine-workings but found another route to Baklalı via Tayakadın which was mostly off-asphalt and a varied mixture of lakeland, woodland and meadow. Tayakadın village was a welcome tea-break and is mysteriously rural despite its proximity to Istanbul. Rather than waiting for the occasional bus from Baklalı, we continued along the road for another half hour to Germe Köyu where we quickly picked up a bus back to Istanbul.
Apart from the muddy sections, the walking was all easy and there were only a few short sections of having to push along partly-overgrown paths. Navigation was greatly aided by compass bearings and Google Earth as there were quite a few places where tracks turned and branched.